FIND OUT TO CORRECTLY MEASURE YOUR TABLE FOR YOUR NEW TABLECLOTH
FIND OUT WHAT TABLECLOTH IS RIGHT FOR YOU
Welcome to Jolee Tablecloths-The home of Wipe Clean Tablecloths
Welcome to Jolee Tablecloths website. The personalised, friendly approach we take with our customers will guide you through the site and help you find what you are looking for.
If you have searched for your desired tablecloths throughout the UK without any success, then browsing through our fantastic array of top of the range tablecloths may provide a solution. Jolee Tablecloths are an independent family run tablecloth company, we are UK based in the beautiful surroundings of East Devon and provide a specialist, bespoke service for a discerning clientele who want made-to-measure and unique looking practical tablecloths designed to meet all individual needs.
We are one of the UK's largest suppliers of PVC Vinyl Tablecloth, Oilcloth Fabric, Plastic Tablecloth, Table Protectors and Acrylic Teflon-Coated Wipe Clean Table Cloths. Not only do we offer this wide-range of Table Cloths but we also sell Cotton Curtain and Upholstery Grade Fabrics. We can cut your tablecloths round, square or rectangle and offer a range of optional extras such as rounded corners, bias binding hem, parasol holes and extra-wide tablecloths. Whether you are looking for a Duck Egg Blue Tablecloth or a Gingham Wipe Clean PVC Tablecloth, we've got you covered. How do I measure my tablecloth we hear you ask, we've got that covered as well with our dedicated measuring guide page.
We can deal in full rolls or cut lengths - if you don't see what you want just ask: we'll be happy to oblige.
We offer a Click and Collect service from our Warehouse in east Devon. Our warehouse is conveniently located 3 miles from Exeter so why not give us a call and arrange to pop in and indulge in all our wonderful fabrics.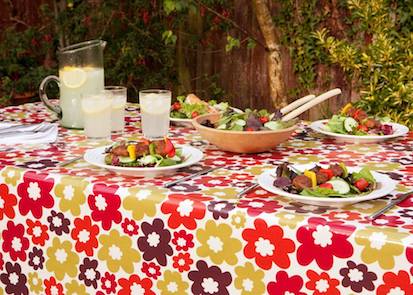 GET READY FOR SUMMER - ANJA SUMMER FLORAL OILCLOTH TABLECLOTH