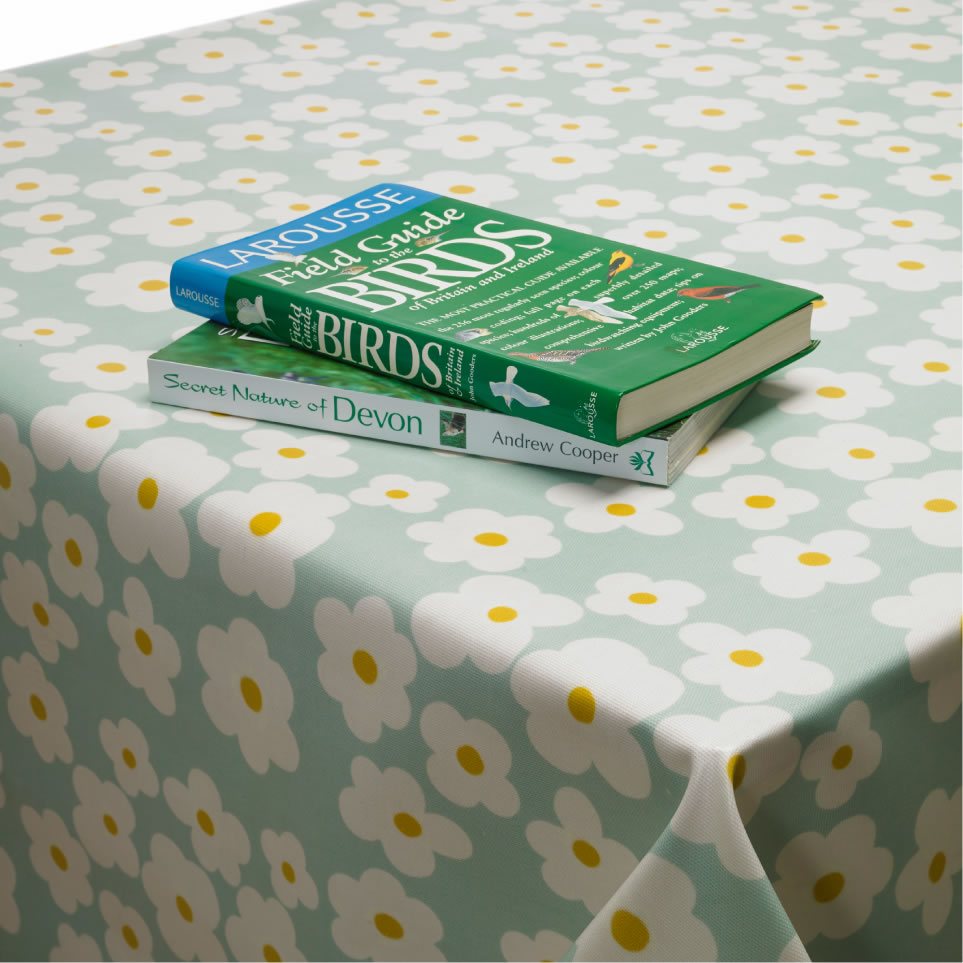 What is Oilcloth?
If you are looking for an Oilcloth Tablecloth, this is the page for you. With a range of over 200 Wipe Clean Oilcloth Tablecloths there is certain to be something here for you. Oilcloth fabric originates from the 18th Century and was originally fabric soaked in linseed oil. It was an adaptable fabric just like today and was even used for clothes amongst other things.
Fast forward a few hundred years and oilcloth is still in use and just as adaptable. Now oilcloth is made from cotton or linen and is coated with a PVC laminate to ensure it is hardwearing, durable and wipe clean.
Sometimes called "Oil Cloth", "Oilcloth Tablecloth", "Oilskin fabric" or simply "wipe clean tablecloth", it can sometimes be slightly confusing as to what it is now called.
With famous names such as Cath Kidston, Orla Kiely and Sophie Allport producing oilcloth and even more famously oilcloth Bags, oilcloth has become very popular with both home lovers and crafters.
Our wide range of oilcloth wipe clean tablecloths is not just stylish but also very practical. Anyone with a sewing machine and some inspiration can knock up an oilcloth bag, apron, make-up bag, iPhone cover and even outdoor cushions.
If you are a parent then you will know how much damage kids can cause to a much-loved table. Oilcloth is the perfect way of protecting your table whilst adding a little something extra to your decor. Whether it is messy meal times or an impromptu crafting session protect your table. We offer a wide range of Oilcloths for all styles and budgets. From our own Exclusive Oilcloths we also have a range of Orla Kiely Oilcloth Tablecloths with a stylish Matt finish. We are confident that we have the oilcloth products you need here.
WHICH OILCLOTH SHOULD I CHOOSE?
With oilcloth being such a popular wipe clean fabric, so has the increase in designs. We have over 200 different designs of oilcloth tablecloth in stock, which includes Grey Polka Dot Oilcloth, Duck Egg Shabby Chic Oilcloth, Plain Taupe Oilcloth and Scandinavian Oilcloth. We now have a growing selection of matt design oilcloths which add a bit more of a 'natural' look to your oilcloth.
We can accommodate oilcloth tablecloths for round tables, square tables and rectangle tables - Just simply choose from the drop down menu the size and shape tablecloth you need.
Oilcloth is normally 132cm (53") wide, however here at Jolee Tablecloths we know that not everybody has the same table size and that is why we launched our own range of Exclusive Extra-Wide Oilcloth Tablecloths. These designs are exclusive to Jolee Tablecloths, which are all printed and designed in the UK with top quality cotton and a matt Oilcloth finish. They have the added bonus of being 149cm wide and are available nowhere else apart from our website.
We deal a lot with businesses for wholesale orders, especially cafes and tea rooms who just can't get enough of our extensive range of wipe clean oilcloth tablecloths.
Here at Jolee Tablecloth we spend a lot of time and effort to ensure we get the correct designs for you. Whether you are looking for a Natural Linen Bees Oilcloth, a Taupe and White Star Oilcloth or a Scandinavian Oilcloth, there is always a design for the fashion conscious out there. We also sell Cotton Soft Furnishing Fabrics which helps if you are looking to make roman blinds, seat cushions or anything else to match with your designer Oilcloth Tablecloth.