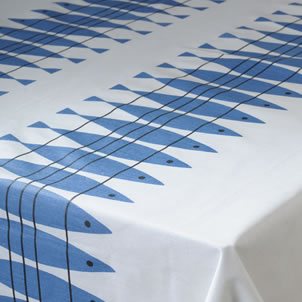 A new addition to our stock is wipe clean acrylic. Also known as Teflon Coated tablecloths. the width is wider than standard oilcloths most of our acrylic tablecloths are either cotton, linen or a poly-cotton. The added bonus of our teflon coated tablecloths is that they are machine-washable on a low heat. Acrylic Tablecloths look and feel just like a fabric tablecloth, so you can have style and substance.

We have some stunning Acrylic Wipeclean Tablecloth designs in stock, ranging from quirky Scandinavian designs to natural linen designs. Also available in our range of Teflon Coated Tablecloths are our Christmas range which have a real stunning simplicity to them.

If you aren't sure if this is the wipe clean tablecloth for you then why not order a free sample These too can be sewn together and are perfect for making craft projects.