Top Tips-Sewing with Oilcloth
We know how clever you lot are and lots of you buy our remnants bags to make things from. However sewing with Oilcloth can appear a little daunting at times so here are our top tips

Working with Oilcloth can be so rewarding, yet it has a reputation for being difficult to work with. There are lots of wonderful items that are made by people using oilcloth; these range from bags, iphone covers, ipad cases, aprons and we have even seen a pair of shoes made from it!

Below are our top 10 tips on sewing with Oilcloth. This isn't a definitive guide, just hints and tips that we have found useful. If you have a different method of working with Oilcloth Fabric please let us know in the comments box below

1. Most articles you will read will recommend using a leather needle. Our experience is that we've found sewing oilcloth easier with a standard 14 to 16 needle, we suggest trying both and seeing what works best for you.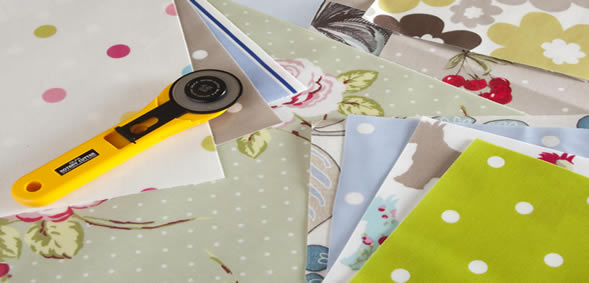 2. If you are a beginner learning to sew with Oilcloth can be expensive as you are certain to make plenty of mistakes. One-way around this is to buy some Oilcloth remnants first, we sell 2kg bags on our website – this will save you money and your sanity! Over the years the definition of Oilcloth has become a little bit cloudy. PVC Vinyl is often referred to as Oilcloth. We have sewn with PVC vinyl and it is pretty straightforward which is why the blog isn't titled 'Sewing with PVC Vinyl'.
Ensure you use Oilcloth (cotton backed with a PVC laminate) as this is the common 'definition' of modern Oilcloth.

3. To prevent the foot of your machine sticking to the PVC side of your oilcloth use a roller foot attachment. These can be found either online or at your local haberdashers for only a few pounds. We have seen suggestions about using tape and tissue paper but we have found this works best for us. Again just have a play around and see what works best for you.
4. A quick and simple tip is that when sewing in zips to ensure you use a standard foot. This is simply because as you will be sewing on the cotton side and not the PVC side of the fabric.

5. We don't like using pins to keep any seams together, we use the ever trusty paperclip! This will ensure there are no unsightly pin-holes in the fabric.

6. If your Oilcloth is covered in creases this will make feeding into the machine very difficult. Simply iron with a cool iron on the reverse side (cotton side) and place a tea-towel over the oilcloth will normally shift most creases. You can also place them under a weight on a flat table.

7. It should go without saying but when cutting Oilcloth ensure you use a good quality pair of scissors we tend to use Janome www.janome.co.uk scissors. To cut simply measure where you want to cut and place a fold in the cloth, you can then cut along the fold.
For anything round we recommend using a rotary cutter, we use Olfa www.olfa.com. Again have a look at your local haberdashery shop.

8. We love making things with Oilcloth, however there does seem to be a tendency to simply make bags from it. It is such an adaptable fabric so our key hint and tip is to experiment with different things such as outdoor cushion covers, picnic mats double sided bunting….the list is endless.

9. The Internet is awash with tutorials on things to make from Oilcloth. Have a good look around to find some inspiration. Why not use family as guinea pigs and see what they think.

10. This should really be our top tip – perseverance! Sewing with Oilcloth can be frustrating but the end product is worth it and could be an excellent source of income…so get sewing and good luck!